Easy to manipulate, robust and economical – there are many reasons why KYDEX® is a popular choice for medical applications, specifically, orthoses. But buyer beware, this thermoplastic that's bountiful among prefabricated lower extremity and spinal orthotic systems can do more harm than good for your patients.
Hidden Dangers of PVC-Based Plastics
KYDEX® is made of polyvinyl chloride (PVC) and is the same material used in plastic straws and utensils that's caused some pretty big brands, including Starbucks and American Airlines and even major cities like Seattle, Washington, to take a stand and ban them completely. The reasons are evident, as 8.3 billion plastic straws pollute the world's beaches and eight million tons of plastic flow into the oceans each year. Along with the negative effects on the environment, the risks of PVC can have on you and your patients are even greater.
PVC can be classified as a carcinogen, which promotes carcinogenesis, the formation of cancer, based on compelling evidence. Abundance exposure, especially during the assembly process involving heat or flames, can result in health complications, such as severe irritation of the eyes, nasal passages and lungs. Based on the research and what we know (Risks with PVC-Based Plastics is worth the read), Anatomical Concepts, Inc. does not use any PVC-based plastics, KYDEX® or Latex in any of its products.
The very real risks linked to these thermoplastics are not worth saving a few extra dollars. We employ the highest quality materials to designing and manufacturing orthotic systems responsibility, using only safe, structural sound superstructures easily adjustable without the need to apply heat or flame. This is one of several key advantages of working with Anatomical Concepts, Inc.
+50 Years of Experience in Orthotics and Prosthetics
The lower extremity (knee, ankle and feet) biomechanics are quite complex. And unfortunately, there are many orthoses available today that are imitations and lack the hospitality and support of a real orthosis. To ensure the best orthotic treatment, a gait analysis is essential to determine the functionality of the affected area during motion. This is a thorough examination and shouldn't be administrated by just anyone.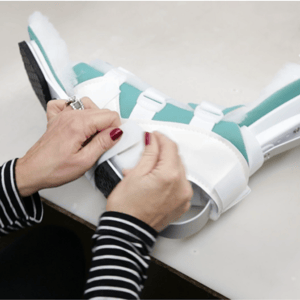 An orthotist is a state-licensed and board-certified medical professional specializing in the evaluation, biomechanical design, custom fit and follow-up of patients requiring orthopedic bracing. In addition, orthotists are the only medical professionals trained in both lower body anatomy, kinesiology, pathology and the fabrication itself of a custom-made or custom-fit orthosis. All other professionals will need to order orthoses from an external supplier.
At Anatomical Concepts, Inc., we're proud to state our orthoses are made right here in the USA. In fact, we are the original concept developer and only manufacturer of the PRAFO® orthosis, used by medical professionals across the globe. It's not enough though to have the right product in place, it's especially important to have the right medical professionals to provide guidance and oversee the treatment process.
William DeToro, Sr., LO/CO and William DeToro, Jr., CPO, LPO have more than 70 years of combined experience in the orthotics and prosthetics. Together, along with a team of licensed clinical practitioners, visionaries and builders, create superior products that are seamless and intuitive, but most importantly, deliver real results through successful patient outcomes.