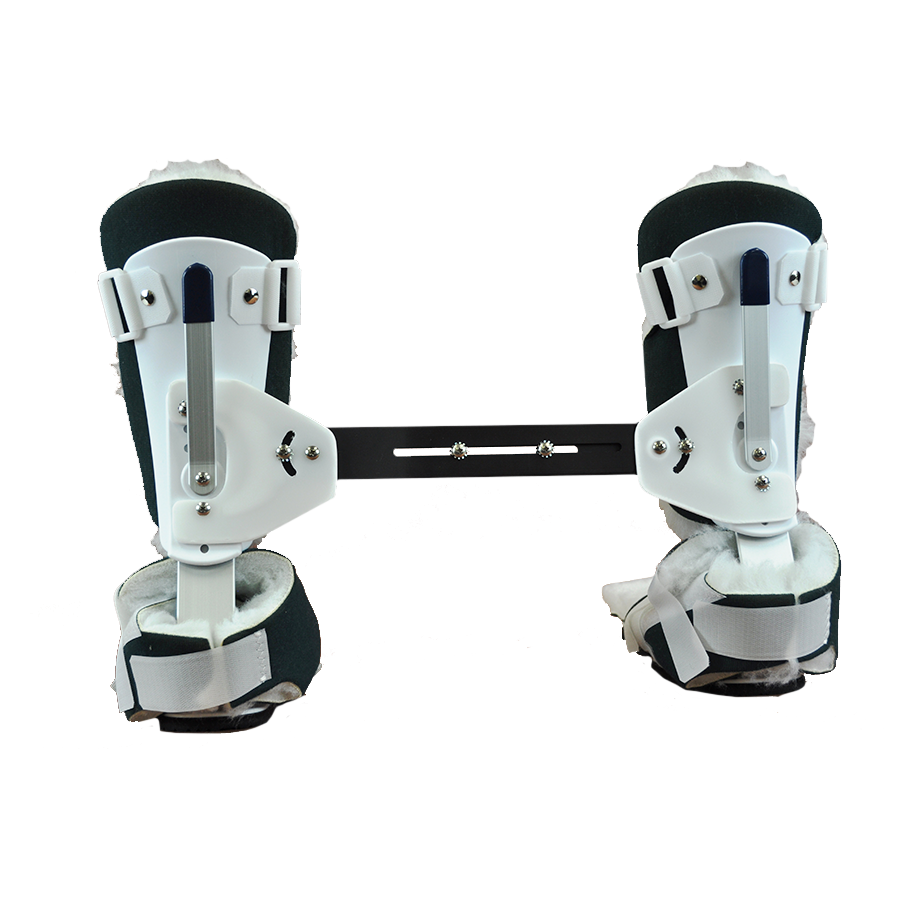 Options and Accessories for Ankle Foot Orthoses & Knee Orthoses
Ankle/Foot Orthoses Bar Options
Heavy Duty Heel Bar:
Recommended for ambulatory patients exceeding 250 lbs. or where additional strength is warranted
3/16" aluminum bar
Spring Steel Heel Bar:
Also recommended for ambulatory patients that exceed 250 lbs.
3/32" Stainless Steel bar
Spring action allows appropriate clearance during swing phase and offers more dynamic structural stability
Ankle Foot Orthoses & Knee Management Orthoses Abduction Control Kit - ACK Options
Allows for more rotational control for recumbent patients comes in Adult and Pediatric sizes for Ankle Foot Orthoses and Knee Management Orthoses.
KMO™ Abduction Control Kits:
Adult:
A95AB-ABDUCTION CONTROL KIT KMO ADULT ALUMINUM BLACK
A95PB- ABDUCTION CONTROL KIT KMO ADULT PLASTIC BLACK
Pediatric:
A85AB-ABDUCTION CONTROL KIT KMO PEDIATRIC ALUMINUM BLACK
A85PB- ABDUCTION CONTROL KIT KMO PEDIATRIC PLASTIC BLACK

AFO Abduction Control Kits:
Adult:
A60AB- ABDUCTION CONTROL KIT PRAFO ADULT ALUMINUM BLACK
A60AW- ABDUCTION CONTROL KIT PRAFO ADULT ALUMINUM WHITE
A60PB- ABDUCTION CONTROL KIT PRAFO ADULT PLASTIC BLACK
A60PW- ABDUCTION CONTROL KIT PRAFO ADULT PLASTIC WHITE
Pediatric:
A50AB- ABDUCTION CONTROL KIT PRAFO PEDIATRIC ALUMINUM BLACK
A50AW- ABDUCTION CONTROL KIT PRAFO PEDIATRIC ALUMINUM WHITE
A50PB- ABDUCTION CONTROL KIT PRAFO PEDIATRIC PLASTIC BLACK
ABDUCTION CONTROL KIT PRAFO PEDIATRIC PLASTIC WHITE
Infant:
A40AB- ABDUCTION CONTROL KIT PRAFO INFANT ALUMINUM BLACK
A40AW- ABDUCTION CONTROL KIT PRAFO INFANT ALUMINUM WHITE
A40PB- ABDUCTION CONTROL KIT PRAFO INFANT PLASTIC BLACK
A40PW- ABDUCTION CONTROL KIT PRAFO INFANT PLASTIC WHITE
Ankle Foot Orthoses Options & Accessories
Varus Control Adaption (VCA™):
Utilized to prevent unwanted varus movement at mid stance or to control severe varus ankle deficiency
Plantar Surface Suspension (PSS™) protected under U.S. Patent No 6,464,659:
Durable 1 inch thick crepe
6 or 8 inch lengths
Used to promote offloading to plantar surface of heel or forefoot
Toe Protector:
1/8" polypro with self-adhesive Velcro® system
Stabilizer Shell:
For minor musculoskeletal conditions
1/16" polyethylene for additional stabilization
Super soft Package - Polyfoam Liner Upgrade:
Available in White and Black