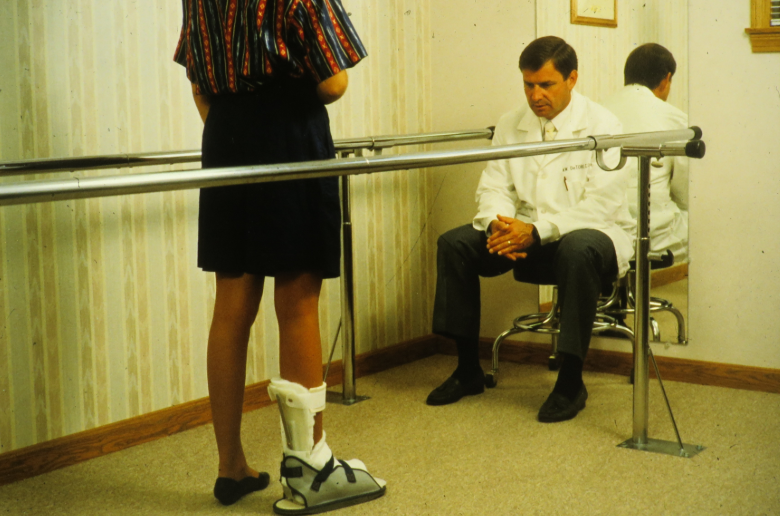 In 2020, Anatomical Concepts turns 30! Throughout the year as we celebrate this special occasion, we'll take a trip down memory lane and share with you the moments and milestones that forever changed the business and led us to become a global leader in prefabricated and custom-made medical devices. In Part One, we tell the story of how Anatomical Concepts came to be and helped serve the needs of patients experiencing lower extremity clinical conditions.
The year is 1990.
Everyone's favorite quirky family from Springfield, The Simpsons, makes their television debut.
A British computer scientist publishes the first web page connecting information with users via hypertext. You and I would come to know this digital community as the World Wide Web.
And handheld game consoles are all the rage with kids and even adults.
Meanwhile in Youngstown, Ohio, William DeToro, Sr., LO/CO, certified orthotic practitioner and co-owner of the Youngstown Orthotic Prosthetic Laboratory Inc., faces his most challenging request yet. He's called upon to develop an early-stage ankle-foot orthosis (AFO) that can offload a patients' heel while reducing heel ulcerations and aid with related conditions, like foot drop. In this circumstance, it's not as straightforward as ordering a device off the shelf from an orthotics and prosthetics manufacturer. That's because DeToro, Sr. discovered pretty quickly such an orthosis was not available to the profession.
At the time, an orthosis' functionality and capacity were quite limited, due in large part to a lack of compliance with its design and architecture. And so, if two patients with identical conditions needed an orthosis, they would have been fitted with two different devices, regardless of experiencing the same deformity or injury. For a medical distributor, this meant housing multiple sizes of the same orthosis type, eating up inventory space, time and money. Many of these devices sat idle, collecting dust and never being utilized. That was the issue at hand for DeToro, Sr., figuring out how to maximize the lifespan of an orthosis to accommodate varying clinical conditions and management, as well as satisfying the different dimensions of a patient.
The PRAFO® is Conceptualized
Behold, the Pressure Relief Ankle Foot Orthosis, simply called the PRAFO® was born. DeToro, Sr. re-envisioned the orthosis and how it's applied to the human body. Research and development and a whole lot of hard work went into creating this one-of-kind brace that could treat a wide range of conditions while providing comfort to patients of all ages and builds.
Simply put, PRAFO is a device worn on the calf and foot, similar to a boot, but with a distinct advantage: being fully modifiable and custom-fitted. By utilizing an adjustable aluminum single posterior upright, a patient, whether ambulatory or non-ambulatory, can use the PRAFO to manage multiple lower-extremity conditions.
PRAFO proved to be invaluable with its truly unique mechanics and superior functionality.
Adjustable to calf and foot length and applied to either the left or right leg.
Only device to offer a fine adjustment of the dorsiflexion and plantarflexion or equinovarus and valgus to accommodate an existing deformity.
Built-in, non-intrusive walking base safely mobilizes the patient during recovery.
Only device to feature a metal upright section, securely holding the foot in place during movement. Together, the metal upright and walking base allow PRAFO designs to be utilized as an evaluation AFO immediately following a stroke and during rehabilitation to restore mobility.
Most importantly, PRAFO delivered zero pressure and shear at the heel – eliminating the main culprit of ulcerations and sores and providing a comfortable and effective environment for healing.
Identifying a Need & Generating a Demand
The successes of PRAFO garnered attention from O&P practitioners, hospitals and physical therapy and rehabilitation clinics. Soon enough, DeToro, Sr. and the team at Youngstown Orthotic Prosthetic Laboratory were assembling and shipping devices to people all over the globe. PRAFO would serve as the catalyst in launching Anatomical Concepts, Inc., a family owned and operated business.
Based on PRAFO technology, DeToro, Sr., along with his son, William DeToro Jr., CPO/LPO, designed, patented and manufactured a wide range of prefabricated and custom-fitted orthoses for upper and lower extremities. Anatomical Concepts' portfolio includes a diverse lineup of products to manage deformities and injuries, including:
What began as a request in solving an AFO need turned into successful business operating helping to serve the need of patients everywhere.