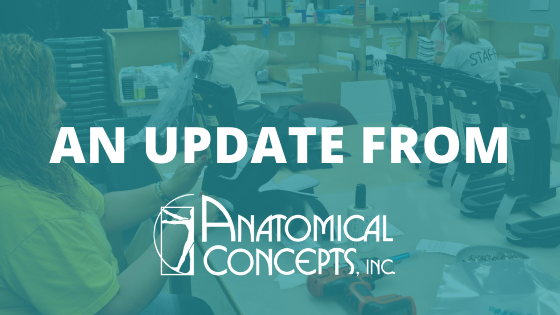 Our thoughts and best wishes are with you and your loved ones during this unsettling time. Now more than ever, leadership and trust are essential to protect our families and our communities and resolve such a unique challenge with perseverance.
Solving health challenges that impact daily life has always been our motivation. It's the reason why my father, William DeToro Sr., LO/CO, started the business 30 years ago. Patients with lower extremity conditions experienced heel pressure ulcers and foot drop while wearing an orthosis. At the time, there was no viable solution. My father was determined to solve the problem by applying science, technology and a whole lot of research and development to give the world an early-stage ankle-foot orthosis (AFO) that would forever change physical medicine and rehabilitation.
Support means everything right now and together we will find a solution and move forward towards a healthier lifestyle. At Anatomical Concepts, Inc., we want you to know we're here for you. It's always been our mission to help patients overcome the largest obstacles by using orthotics to deliver real results.
As a leading provider of prefabricated and custom-made orthotic devices for all upper and lower extremity needs, medical professionals around the globe are depending on us to ensure they have the supplies and resources to continue treating patients during these unique circumstances. Our team of licensed clinical practitioners, visionaries and builders are working safely, applying physical distancing and deep cleaning measures to continue manufacturing.
Many businesses across the U.S. are running low on inventory, with reliance on receiving goods from other parts of the world. Today, I'm confident to say that's currently not a concern with us at Anatomical Concepts. That's because our products and materials used to construct our devices are all made right in the U.S., meaning you shouldn't expect a delay in getting the solution you need for your patient. We're available by phone, email, or web chat to address comments and answer your questions.
In these times of uncertainty, trust our steadfast commitment to you and your patients remains unchanged. When it comes to quality and service, we know you expect the highest levels of support, and we pledge to provide it to you as we all march ahead together.
Be safe. Be healthy.
William A. DeToro, Jr., CPO, LPO
Anatomical Concepts, Inc.