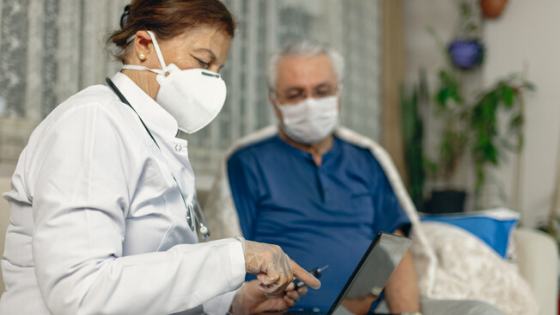 Life in 2020 looks a bit different. The way we work and how we shop have drastically changed, even seeing family and friends doesn't come without a lot of logistical challenges to protect our health and well-being. The coronavirus (COVID-19) has uprooted our lives abruptly and at least in the short term, will impact how we interact with people. But it won't be forever, as we develop rapid testing and perform clinical trials of new therapies and vaccines. We will get there, but it's going to take time.
In the present moment, hospitals and clinics are very busy testing and caring for people who may have the virus. So what do you do if you need to see the doctor for your orthosis? Is it safe to go? Should you reschedule your appointment? We're going to answer those questions for you to ensure you're treated in the safest and most efficient manner.
Can You Leave Your Home to See a Doctor During the COVID-19 Pandemic?
Unless you're experiencing severe pain or discomfort, it's best to NOT visit the doctor at this time. And while anyone can wear an orthosis, typically, patients are older and may have a chronic health condition, making this population vulnerable to risks of COVID-19. Many doctor's offices and clinics have scaled back their availability to only see the most urgent cases. We always recommend calling your doctor first, as they'll be able to provide you with a better assessment of the situation.
If I Can't See My Doctor In-Person, Then What Can I Do?
Telehealth services, or virtual visits, have been around, but they did not have much notoriety until now. Technology and fast internet capacities provide the ability to meet with our physician without ever stepping foot in a doctor's office. If you have a desktop computer, laptop, tablet or a smartphone, you can see the doctor and discuss the issues you're having with your orthosis. Additionally, doctors can access your medical records, refill prescriptions and get lab results all virtually. Consult with your doctor to see if you can schedule a virtual visit.
When it comes to medications, doctors are making it easier to get 90-day refills to reduce the number of trips people make to drop-off orders and pick up prescriptions.
What If Seeing the Doctor In-Person is a Must?
As we mentioned beforehand, always call your doctor before visiting, as they'll provide critical information regarding your condition. If a situation requires you to go to the doctor, there are precautions you need to follow very carefully during your visit.
Wear a face mask. (Cloth or surgical masks will work.)

Stay at least six feet away from others.

Wash your hands with soap and water for at least 20 seconds.
Do not touch your face.

Avoid touching surfaces. If you do need to touch a shared item, use a disinfectant wipe to clean the surface.
As always, practice good hygiene and be aware of social distancing, and we'll get through this together.