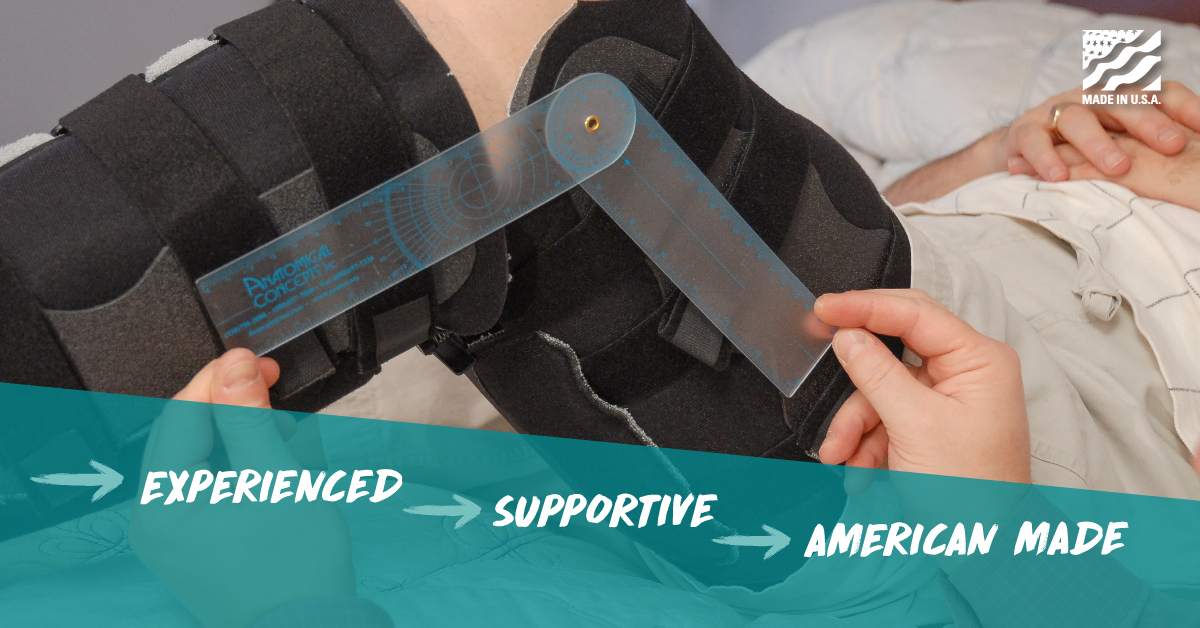 Predictability is fundamental, yet sometimes perceived in a negative connotation as unremarkable. However, in a year full of unknowns, finding solace in normalcy has never been more desired than at this particular juncture.
"Business as usual," as the motto goes, has met its match. The COVID-19 pandemic uprooted daily life, dramatically changing the way we work, the way we learn, the way we shop and how we communicate with loved ones. While we face a constant barrage of challenges we've never dealt with before, one thing remains certain: access to high-quality healthcare.
30 Years of High-Quality Patient C
are
2020 marks Anatomical Concepts, Inc.'s 30th anniversary. In that time, we've been there to help patients, physicians and distributors take that giant step forward to better outcomes. When it comes to rehabilitation following an injury or medical condition, there are no days off, and the process is challenging and grueling but worth the outcome.
During the pandemic, we at Anatomical Concepts have stayed open without halted production. As a leading provider of prefabricated and custom-made orthoses for upper and lower extremity needs, customers – whether a distributor, medical professional or network buyer – are depending on our team to ensure they have the products and resources to effectively treat and heal patients during these unique circumstances. Business, as usual, is still business as usual for us. Anatomical Concepts' licensed clinical practitioners, visionaries and builders are working, but doing so safely, applying physical distancing and deep cleaning measures, to design and handcraft superior orthoses.
With that being said, Anatomical Concepts is here for you during these memorable times. Here are three reasons you should consider doing business with us:
- Eleven -
The number of U.S. product patents obtained by Anatomical Concepts, Inc. All of our solutions are designed and manufactured with pride in the USA.
---
- FDA Registered -
We are compliant with the standards and regulations set forth by the United States Food and Drug Administration.
---
- CE Marking -
All of our medical devices conform to health, safety and environmental protection standards within the European Economic Area (EEA) and within other countries throughout the world.
Experience.
Bill Detoro, Sr. and Bill DeToro, Jr. have a combined 75 years of experience in the field of orthotics and prosthetics.
American Made.
Supply chains have been substantially affected by the pandemic. Businesses relying on global sourcing are experiencing disruptions, resulting in low inventories and tough decisions. At Anatomical Concepts, we're not dependent on foreign-made products; all of our orthoses and accessories are designed and assembled at our headquarters in Poland, Ohio. The material and parts, from the linear to the lamination bar and axle, down to the screw and pin, are made in the U.S. Whether you're a patient, physician or network buyer, know with confidence an American-made orthosis from Anatomical Concepts will be delivered on time and with the highest quality craftsmanship.
You Have Our Support.
In tough times, it's a good feeling to know someone is there for you. Our competitors offer phone and email support – we do as well – but let's be honest, nobody wants to wait days on end for a solution to an urgent matter. When it comes to orthoses, every minute matters, which is why Anatomical Concepts offers you live chat support with our team. On our website, AnatomicalConceptsInc.com, you'll see a chat box in the lower right-hand corner of your screen. Click it and begin speaking with an orthotic expert immediately; it's that simple.