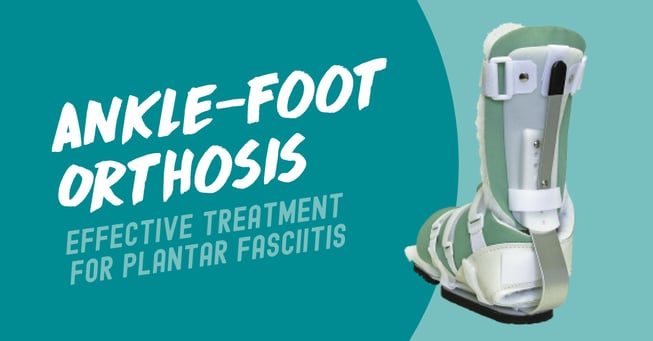 Standing, walking, running, climbing, and jumping can take a daily toll on our feet. Because of this regular wear and tear, it's not surprising that foot injuries and ailments are common.
How much do we roll up the odometer on our feet? According to the College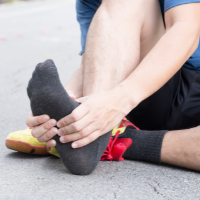 of Podiatry, a person walks an estimated 150,000 miles during their lifetime. That's equal to walking around the world six times.
Foot problems come with the territory when you walk that much. The most common foot issues, in order, are Athlete's foot, bunions, diabetic neuropathy, ingrown toenails, Plantar fasciitis, blisters, corns, heel spur, claw toe, and stone bruise. These ailments can be caused by injury, improper footwear, diabetes, and regular wear and tear.
While all these foot ailments are painful and sometimes challenging to treat, this blog will focus on a common cause of heel pain – Plantar fasciitis. We'll define the condition, discuss symptoms and summarize treatments that address joint mobilization and pain management.
What is Plantar fasciitis?
Plantar fasciitis is an inflammatory condition accompanied by severe pain, burning, and stiffness in the heel. Sufferers typically feel discomfort along the bottom of the foot near the heel. This area is known as the plantar fascia.
The plantar fascia is a piece of tissue that connects the front of the foot to the heel. Its job is similar to a shock absorber - to absorb the stresses and
strains put on our feet every day. This tendon can become irritated and inflamed, leading to extreme heel pain.
Some noteworthy facts about Plantar fasciitis include:
Recovery (with therapy) can take up to 9 months

More than 80 percent of sufferers are aged 25 to 65

Almost 15 percent of patients minimized their symptoms just by changing shoes
If left untreated, heel pain can lead to the need for complex therapy

Common causes include an increase in activity, improper or unsupportive footwear, significant weight gain, and jobs that require prolonged standing
Plantar fasciitis is painful and can limit mobility and activity levels. But with the right treatment and physical therapy techniques, it can be successfully managed. However, there is no quick fix, and recovery can take a long period of time.
The absolute best treatment option is rest. But with busy lives that require constant movement, complete rest is often not feasible. Because of that, the best patients can hope for are solutions that help manage pain, improve joint mobilization, and accelerate recovery.
Some non-surgical treatment options for the condition include:
Stretching Program




Spending time with a physical therapist who can develop a customized stretching and strengthening program can be effective. While it might be painful at the beginning of treatment, this approach can help correct functional risk factors like weakness of foot muscles.

Stretching exercises will also help increase the flexibility of the calf muscles, which is essential for recovery. Patients can try on their own, using a wall, stairs, or curb to stretch the heel and calf.

Changing to Proper Footwear
As noted above, simply changing footwear is an easy and effective solution for some plantar fasciitis sufferers. Many people are not wearing the correct footwear, which contributes to many of the standard foot issues. Wearing shoes that are too small is a common mistake.
Those with Plantar fasciitis should seek out shoes that have thicker, well-cushioned midsoles. These are typically made of a material commonly found in many running shoes. Wearing this kind of shoe helps decrease pain associated with long periods of walking or standing. The shoes take some of the "shock absorption" responsibility away from the plantar tendon while it heals. For patients with flat feet, motion control shoes may help decrease pain.
Ankle Foot Orthosis AFO Treatment For Plantar
Fasciitis
The biggest key to recovery from plantar fasciitis is to strengthen the plantar flexion. While stretching through a physical therapy program can be effective, that alone isn't always enough to bring quick relief or results.
Physicians often prescribe an ankle foot orthosis (AFO) to help increase patient mobility and reinforce the tendon. These devices are especially effective for individuals with gait deviations related to muscle weakness or deformities. Over time, the brace has become known as a "foot-drop orthosis" because of its ability to adjust a limb with weakened or contracted muscles into a more normal position. But it's often underestimated for its effectiveness in strengthening plantar flexion muscles.  
The goal of using orthotics to treat Plantar fasciitis is to restore normal function and prevent the disease from progressing to the foot or ankle. To achieve this, orthotics can be designed to offload high-pressure areas, minimize forces, cushion sites of tenderness, correct flexible deformities, or provide foot control and support.
Footwear modifications coupled with AFO devices help restrict painful motion, counteract lost motion, adjust for deformity, provide support, and improve gait and movement. 
PRAFO®  Ankle Foot Orthosis  Provides Superior Stability During Recovery
If you're a patient dealing with Plantar fasciitis, ask your doctor about an AFO to help speed along your recovery. There are many products out there, but you may want to get your physician's recommendations about our flagship product - PRAFO® Orthosis (pressure relief ankle-foot orthosis).
The PRAFO is a fully adjustable, custom-fitted AFO that helps patients manage many ankle/foot conditions, including
Plantar fasciitis.
ACI offers several variations of this product line that consist of different sizes (bariatric, adult and pediatric), liner options (Kodel®, Fleece, Terry Cloth, Polyurethane Foam or Pad & Strap) with various color choices.
Features and benefits of this innovative product include:
Controls dorsi-plantar flexion

Clinically proven for effective ambulation

Infinite measurable adjustments

Custom-contoured, malleable aluminum heel connector

Malleable aluminum anti-rotation bar
Compatible with all liner variations that we offer if applicable
Visit our product page to learn more about the key benefits and features of our PRAFO.